Home of Pacers
5 years ago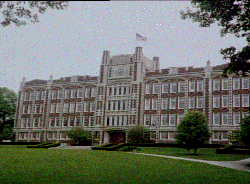 A fire burned down the old 'original' Chicopee High School on Front St. across from Academy St. back on January 17, 1916. The fire started in the early morning hours of that day, the first alarm of which was sounded shortly after 5:00 AM. See the newspaper article of the fire (graciously submitted by Mr. Walter K. Fogg Jr.). The Chicopee Parks and Rec. offices now sit where the original CHS burned down, which is across from the main entrance to Szot Park.
The old CHS at 650 Front St. went up in 1921.
CHS served the entire city of Chicopee as a public high school until 1962 when CCHS was opened. There were about 535 graduates in Comp's first graduating class of 1964.
James E. Higgins was the mayor. It had a spacious auditorium with a large balcony, (not the present one) and could seat a thousand people. The gymnasium was originally built where the present student cafeteria is, also with a balcony, which served as "Baby Heaven" used to separate suspended students from the rest of the students. It had a banner picturing baby toys hanging from the ceiling. Mr. Courniotes performed this duty as a young teacher.
The old CHS gym and pool and other offices were opened and the gym was named in honor of Henry B. Fay, a long time principal and teacher, who was forced to retire due to illness in 1972.
Former Business Department Head Richard Beaudry and Mr. Courniotes were classmates in the class of 1949. They both served in the military during the Korean War. His older brother Harry, President of AIC, was an officer in WWII. They are all U.S. Army Veterans.
Chicopee High School had a major renovation for two full school years in 1975-1976 and 1976-1977. While renovations took place, the students had classes at Westover Air Force Base and the old Kirby Annex between Meadow St. and Chicopee St. near the Willimanset area of Chicopee. When the students were attending classes at Westover during the renovation...then President Gerald Ford arrived at Westover on Air Force One. All the students got to go to the tarmac to meet his plane. The band practiced "Hail To The Chief' for his arrival only to be told a few days before that he preferred Michigan's Fight Song. The band had to learn the new song quickly. submitted by: Janet (Dout) LaRoche, Class of '78
Mr. Courniotes taught at both locations and was paid a small fee to travel Kirby Annex (Grade 9) and Westover AFB. At Westover, C.H.S used the Sweeney, Selser and part of the Bowie schools. The Kirby Annex principal was Donald Morrissette, who later would become the principal of C.H.S. The C.H.S Principal at Westover was John Corridan. The IMC at C.H.S. was later named after him.
Christopher Fitzgerald was also a principal. The superintendent in the 1940's was Dr. Desmond.
Henry B. Fay, John Corridan, Donald Morrissette, and Frances Bigda have all worked as principals here.
Mrs. Frances Bigda was a Social Studies teacher at CHS and a principal at the Kirby Annex. She took over as principal when Donald Morrissette had to leave due to illness.
The large area of Chicopee made student transportation a big problem when CHS was the only school in Chicopee. From the Fairview area near South Hadley, Westover AFB, and the 7 sections of Chicopee:
1.)Willimansett
2.)Aldenville (including Sandy Hill)
3.)Fairview
4.)Chicopee Falls
5.)Chicopee Center
6.)Smith Highlands
7.)Willimansett Heights
Before Comp opened, CHS had over 3,000 students and triple sessions had to be installed. Westover AFB had expanded to a military\civilian population of about 32,000 in the 1960's. Part of the 1960's, the two high schools had over 4,000 students.
A famous actress, Victoria Principal, (Dallas TV series) was a student at Chicopee Comprehensive High School.
Mr. Ray Stec, Math Dept. was a student at CHS when there were triple sessions.
CHS also had a large vocational department similar to what Comp has now. Also known as the Chicopee Trade Section of CHS. Heavy mechanical equipment and workshops were located where the custodians now use as their storage and office areas. Some of the vocational classes had to be held at the Bosch Magneto Industrial Plant near the Chicopee- Springfield border of north Main St. in the Brightwood area of Springfield.
CHS also had a large "portable area" of classrooms in separate 2 wooden buildings where our automobile parking lot is now located. It housed the 9th grade students, which were not called "freshmen" then. Instead, 9th grade was called "Center Junior High School". A graduation took place in June like our regular CHS graduation. After graduation you were to advance to the senior area of CHS (Grades 10, 11, 12)
Mr. Courniotes was a graduate of Center Junior H.S. (Grade 9 to Grade 10) in June 1946.
CHS had special language classes taught by our resident clergymen.
Polish was taught by a clergyman, Fr. Robert M. Nemkovich, Pastor of Holy Mother of the Rosary Polish National Catholic Church on Bell St. in Chicopee. Fr. Nemkovich is now the Prime Bishop (highest ranking clergyman) of the Polish National Catholic Church...(information provided by Rev. Fr. Mark J. Niznik, a 1980 graduate of Chicopee High School, ordained to the Polish National Catholic Church in 2000).
Greek was taught by a clergyman from the St. Constantine and Helen Eastern Orthodox Church in Chicopee Falls. Classes were held after school.
Chicopee High School and its campus, the front lawn especially is so attractive, that U.S. post cards are printed showing our "Key of Knowledge" made out of a shrubbery in front of our school.
The present location of our outdoor graduation is on the beautiful front lawn area. The graduations were formerly held at Szot Park, on Sunday afternoons rather than Saturday mornings and/or afternoons. They have since been moved back to Szot Park once the brand new CHS opened in 2004.
The 1963 class of about 538 students was caught in a cloudburst of rain at Szot Park. The ceremony were ruined and had to be transferred to the gym.
OUR GREAT FOOTBALL TEAM HAD A SCRIMMAGE AGAINST THE UMASS FRESHMAN TEAM BEATING THEM AT SZOT.
A&W ROOTBEER, ACROSS FRONT STREET FROM THE HIGH SCHOOL, WAS VERY WELL ATTENDED DURING CLASS TIME. THE SCHOOL CAME UP WITH SPECIFIC A&W RULES & PENALTIES IF A STUDENT WAS CAUGHT THERE DURING CLASS.
MR. CHARLIE FOX, THE GYM TEACHER, WITH HIS BATTLE AGAINST MALE LONG HAIR.
The athletic complex at Szot Park has been the location of many great athletic events. Especially the huge crowds attracted by CHS football games. (i.e. the Thanksgiving game between CHS and Holyoke H.S. several years ago attracted over 10,000 people. The crowds at these athletic events are much smaller now, but occasionally reach 3,000 or more people.
The traditional rivalry between CHS and Holyoke H.S. (rivalry started in 1908) on Thanksgiving are alternated. Odd years at CHS and even years at Holyoke High.
Many years ago, the Thanksgiving game was not held on Thanksgiving, but rather on Saturday afternoons.
In the Fall of Y2K, Chicopee High School launches its first-ever Web site, appropriately named the 'Spider's Web'; in honor of the 'Spider' that would predict the scores of football games during school rallies in the gym back in the 50's, 60's and 70's. The 'Spider' would literally descend down from the rafters of the old CHS gym during these rallies to make his/her prediction. The Web site was born as part of Mr. Dennis Sieracki's (CHS Business Dept.) Computer Club, and was the first school in the city to have their very own Web domain. Although the 'Pacer' is the official mascot of CHS, the 'Spider' became somewhat of a secondary mascot to CHS. When the original CHS burned down, firefighters found a small spider still spinning its' web in a corner of the burned-out building. Hence, the 'Spider' became a symbol of Chicopee High School's long, storied history.
Chicopee High School, also known in town as CHS, was the third high school in Chicopee. Until 1896 two smaller high schools served Chicopee and Chicopee Falls. These schools were replaced by Central High School which opened in 1890 which served as the only high school until it was destroyed by fire in January 1916. The Taylor School in Chicopee Falls served as a temporary high school until 1921.
To be located at 650 Front Street, construction on a new Chicopee High School began in 1917 on land once occupied by the Assumption Church which, itself, had been destroyed by fire in 1912. Construction on the $1 million school was delayed by WWI and CHS finally opened in September 1921. It was built in the collegiate style and faced with tapestry brick. Situated on a hill, its large front lawn featured the "keys of knowledge" outlined in shrubs. A small park and a memorial to Chicopee residents who died in WWI was constructed on an adjacent parcel.
CHS featured an auditorium that seated 1000 people and the first gymnasium in any Chicopee school. The Chicopee Trade School occupied a wing of the new CHS. In 1957 a new gymnasium complex was added featuring a new basketball court and pool. The gym was later named after a former principle Henry B. Fay. The old gymnasium was converted into a cafeteria, the balcony of which was nicknamed "Baby Heaven" and was used for suspended students. Another location that earned an enduring nickname was "Cats Alley", a windowless hallway on the second floor that ran between the gymnasium and the auditorium.
With the Baby Boom, the student population of CHS swelled to over 3,000 students. Several temporary classrooms were constructed in the land behind the school and triple sessions had to be instituted. This severe overcrowding forced the city to construct a second high school. In 1962 the new Chicopee Comprehensive High School opened in the Aldenville section of town. As a vocational school, CCHS absorbed the functions of the old Chicopee Trade School
Between 1975 and 1977 the aging high school underwent extensive renovations. These renovations included a new library built above the auditorium and new classrooms built off "Cats Ally" above the old gymnasium. For two school years most students were relocated to schools at Westover Air Force Base and 9th graders to the old Michael J Kirby Junior High School.
Groundbreaking for the new State-of-the-art Chicopee High School takes place on the grounds of the old Chicopee Municipal Home on Front St. in the Spring of 2002. Completion expected in early 2004. The new CHS officially opens to students August 31, 2004. Dedication ceremonies held in September '04.
Dedicated in memory to Mr. Peter Courniotes, long-time C.H.S. faculty member and Historian.
A special "thank you" to Raymond Landry (CHS,'63), Mrs. Joyce Mason Grabon (CHS, '73) and to Mr. Walter K. Fogg for contributing to our History page.
If any CHS alumni would like to contribute additional CHS history, please email to: dsieracki@cpsge.org